Project Description
We aim to create a functioning 3D scanner that has a work envelope of at least a cubic foot, while being generally affordable (from 400-1000). The 3D scanner will be able to scan items within the work envelope, create a point-cloud of the scanned points, and finally provide an exportable file or data stream representing the scanned object. It will be targeted toward hobbyists and consumers, as its cost will not be extraordinary and its accuracy will be relatively reliable and practical for small- to medium-sized objects.
We also want the 3D scanner to be able to acquire color data, so the generated model can have a color mapping. The 3D scanner will be reasonably accurate, such that generated models will be quite similar to the real object. It will also be reasonably fast, since a 3D scanner that takes hours does not make much sense for the size of objects it will be scanning. The scanner should be easy to interface with, ideally using a USB interface, and hopefully registering as a USB Scanner or USB Mass Storage Device, so that it wouldn't be necessary for the user to install additional, specific drivers to immediately be able to use the scanner.
Functional Architecture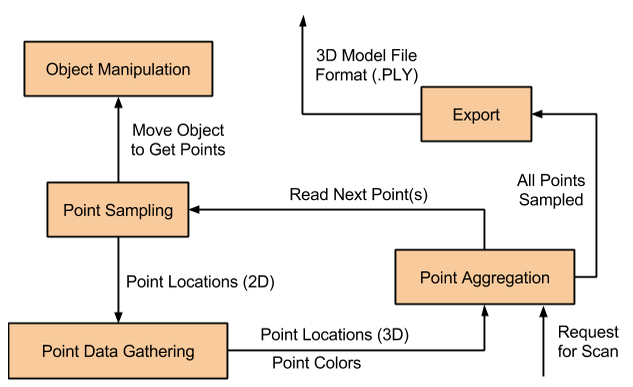 Use Cases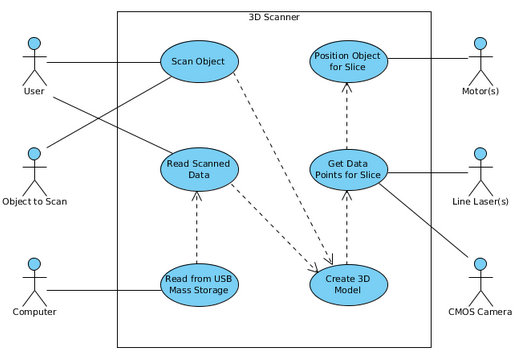 ---
Motivation
We thought it'd be cool.
---
Requirements
Cost: Building and prototyping the project cannot cost more than the $700 budget that is provided.
Safety: The project should be safe to use. Thus, if lasers are used, they should be rated for reasonable safety (Classes 1 and 2).
Time: The project must be designed and constructed in a 10-week period.
Scan Time: The scanner should be fast, performing a scan of any object in at most 30 minutes. If necessary, model construction should be done in parallel with scanning to decrease overall scan time.
Power: The power required by the scanner should not exceed that which is available from a 120V power outlet.
Scan Accuracy: Each point of the scanned object's model data should be within 2mm of the corresponding point on the object, to account for possible unforeseen noise.
Autonomy: The scanner should be autonomous, in that once it is set in motion, it will complete on its own, except perhaps minimal intervention to reorient an object.
Ease of Use: The scanner should be as easy to use as possible. It should not be difficult for a user to immediately connect the scanner to their computer and scan an object, receiving the file of the object's data from the scanner.
Error Handling: If an error occurs while scanning is taking place, the scanner should be able to gracefully degrade performance, or if urgency dictates, should alert the user of the issue. Ideally, this alert would be textual, however an LED indicating that the device should be reset may be adequate as well.
---
Components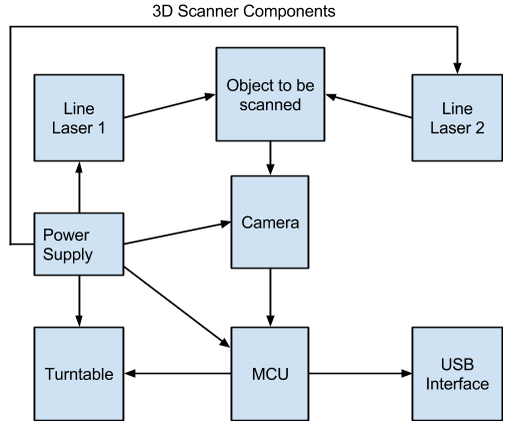 Line Laser (x2): AixiZ - $38.50
Lenses: AixiZ - $9.00
Stepper Motors: DigiKey (1460-1075-ND) - $36.64
CMOS Camera: Aptina (MT9P401) - $80.00
Structural Materials: McMaster-Carr - $100.00
#content ?>