! ---- PN: Change "Project" to your project name --- >


<! -- PN: Change "X" to your team number --> <! -- PN: Change "Moniker" to your team's cool name -->
TEAM 15: Super Sweet Kicks
Spring 2009
---
MEMBERS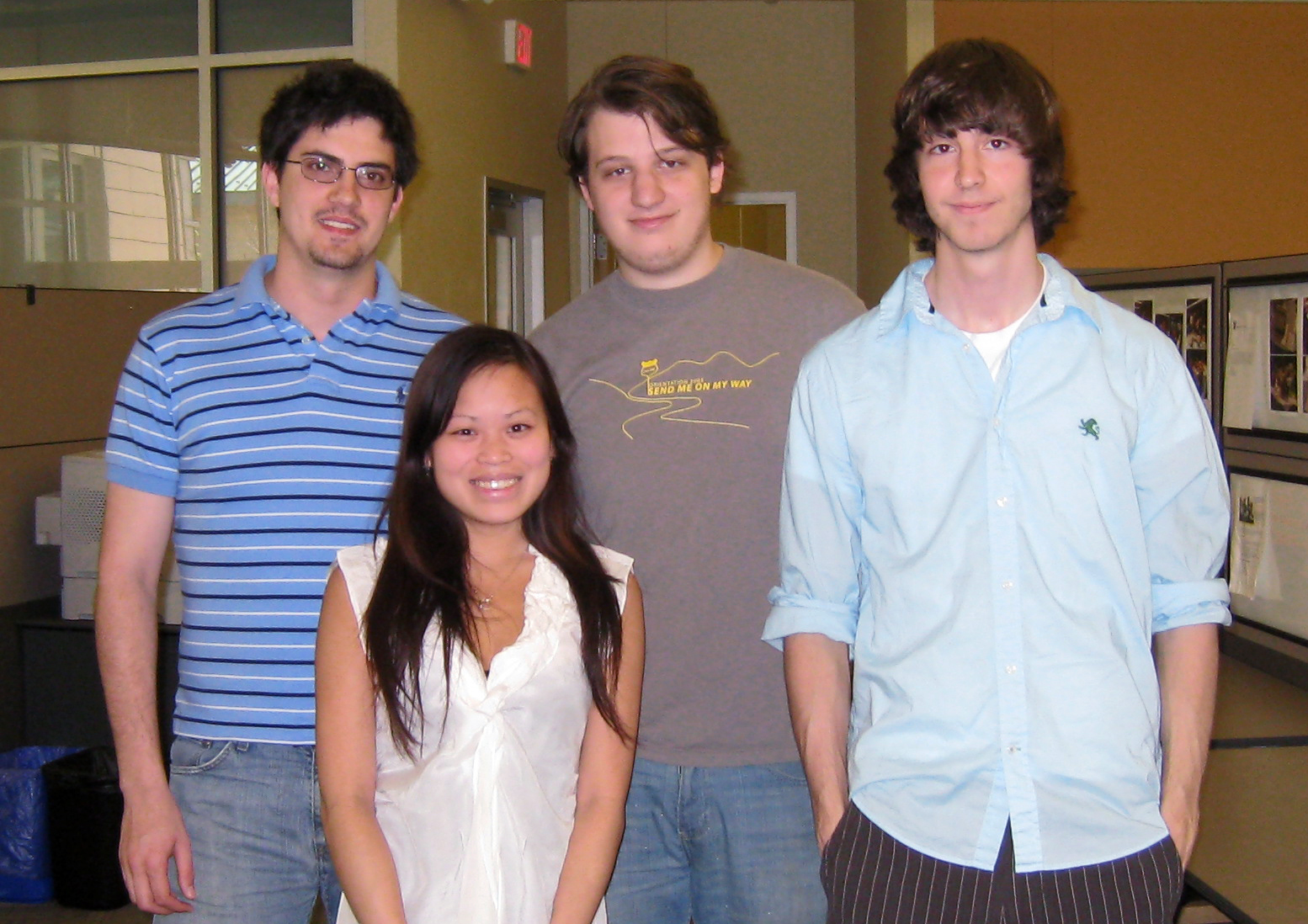 Tom Cherry &nbsp&nbsp(tcherry at andrew dot cmu dot edu)
Jessica Liao &nbsp&nbsp(jliao1 at andrew dot cmu dot edu)
Seth Rosenblum &nbsp&nbsp(sethr at andrew dot cmu dot edu)
Matt Wagner &nbsp&nbsp(mlw1 at andrew dot cmu dot edu)
This project will help young children learn how to properly kick a soccer ball. This smart soccer shoe will provide kids feedback in a friendly, easy-to-understand way in order to allow them to improve.
Learning how to properly kick a soccer ball is very challenging, especially for kids. Children have short attention spans and coaches can get easily frustrated and sometimes even yell at them. Rather than having a child experience the emotional anguish or discouragement after being screamed at by a coach, our smart shoe will provide colorful feedback in a fun and friendly way.
KIXTAR Instructional Soccer Shoes


Designed to teach kids how to cross, pass, and shoot with precision
Only indicate where the soccer ball should be kicked
No feedback system to indicate if the ball was actually kicked in the right spot
Not available for individual purchase



Instructional Videos


| | |
| --- | --- |
| | Difficult to watch-and-learn at the same time |

Screaming Coach


| | |
| --- | --- |
| | Can cause kid to be frustrated, discouraged, sad, and upset |
TECHNICAL SPECIFICATIONS
Hardware:
1x LilyPad Arduino Main Board - $21.95

Highly durable, thin, wearable, can be sewn in, washable
Microcontroller: ATmega168V
Operating Voltage: 2.7V - 5.5V
Memory: Flash (1KB), SRAM (1KB), EEPROM (512MB)
Clock Speed: 8MHz

3x Flexiforce Pressure Sensor - 25lb - $19.95/each

Versatile, durable, super thin, piezoresistive force sensor
Customizable, can adjust shape and size
Linearity Error: < ± 5%
Response time: < 5 microseconds

1x LilyPad Accelerometer - $24.95

Three-axis accelerometer that can detect joint movements, inclination, and vibrations
Versatile, thin, flexible, and washable
Selectable Sensitivity: ± 3.6g
Operating Voltage: 2V - 3.6V

1x LilyPad Tri-Color LED - $7.95

Very bright
Versatile, thin, flexible, and washable
Simple

1x LilyPad LiPower - $14.95

Small, flat, long-lasting, durable
5V Power Supply
Good up to 150mA

1x Polymer Lithium Ion Batteries - $6.95

Small, extremely light (3g)
3.7V at 100mAh
Long lasting
Software:
Protocols:
Functional
Detects different types of kicks such as the push pass, chipping, and instep on different parts of the foot
Estimate the velocity of the kick
Behavioral
Provide light feedback, varying from gradients of red to green, to user based on the type of kick

Red = wrong
Yellow = almost there
Green = awesome!
USE CASES (INTERACTION DIAGRAMS)
| | |
| --- | --- |
| Risks | Mitigation Strategies |
| Components might not fit in shoe | Put board and battery in shin gaurd |
| Additional weight can alter the kick | Move some of the weight to the shin guard |
| Components might fall off the shoe | Protect with socks and shoe band |
| LED might not be bright enough in daylight | |
To be completed.
To be completed.
To be completed.
To be completed.
To be completed.
To be completed.
---
Back to the top of this page
18-549 course home page