TEAM 4:
Spring 2007
---
PROJECT CONCEPT
Our project will allow users to play virtual musical instruments. The prototype uses embedded components to detect and communicate user gestures, via Bluetooth, to a base station that plays the appropriate sound.
Intuitive virtual instruments that allow multiple musicians to play together do not exist. Our prototype will allow players to have jam sessions on a gesture controlled device capable of simulating several instruments.
Wii Drum Machine - Use a Wii remote to play a virtual drum. The Air Combo will play multiple instruments.
miJam - Electronic drum that simulates different drum noises. The Air Combo will play multiple instruments.
The Virtual Air Guitar Company - This product works by detecting the positions and motions of the users hands visually, then procedurally generating good sounding music according to the rhythm and style of play. The Air Combo will use motion sensing with sensors reducing the power needed for video processing and allow the user to play multiple instruments.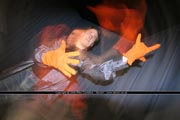 User of Virtual Air Guitar
REQUIREMENTS
Portable Requirement: Portable with wireless range of 32 feet.

Timing Requirement: Latency between gesture and sound of 10 ms
Functional Requirement:
--Accepts various gestures as input.
--Sends gesture message to base station.
--Base station recognizes instrument.
--Virtual instrument sound is produced.
REFERENCES
PROTOTYPE VIDEO
Architecture
Use Cases
System States
Risks
Fun Stuff
---
Back to the top of this page
18-549 course home page