! ---- PN: Change "Project" to your project name --- >
TEAM 6: Rink on Rails
Sports Technology, Fall 2009
---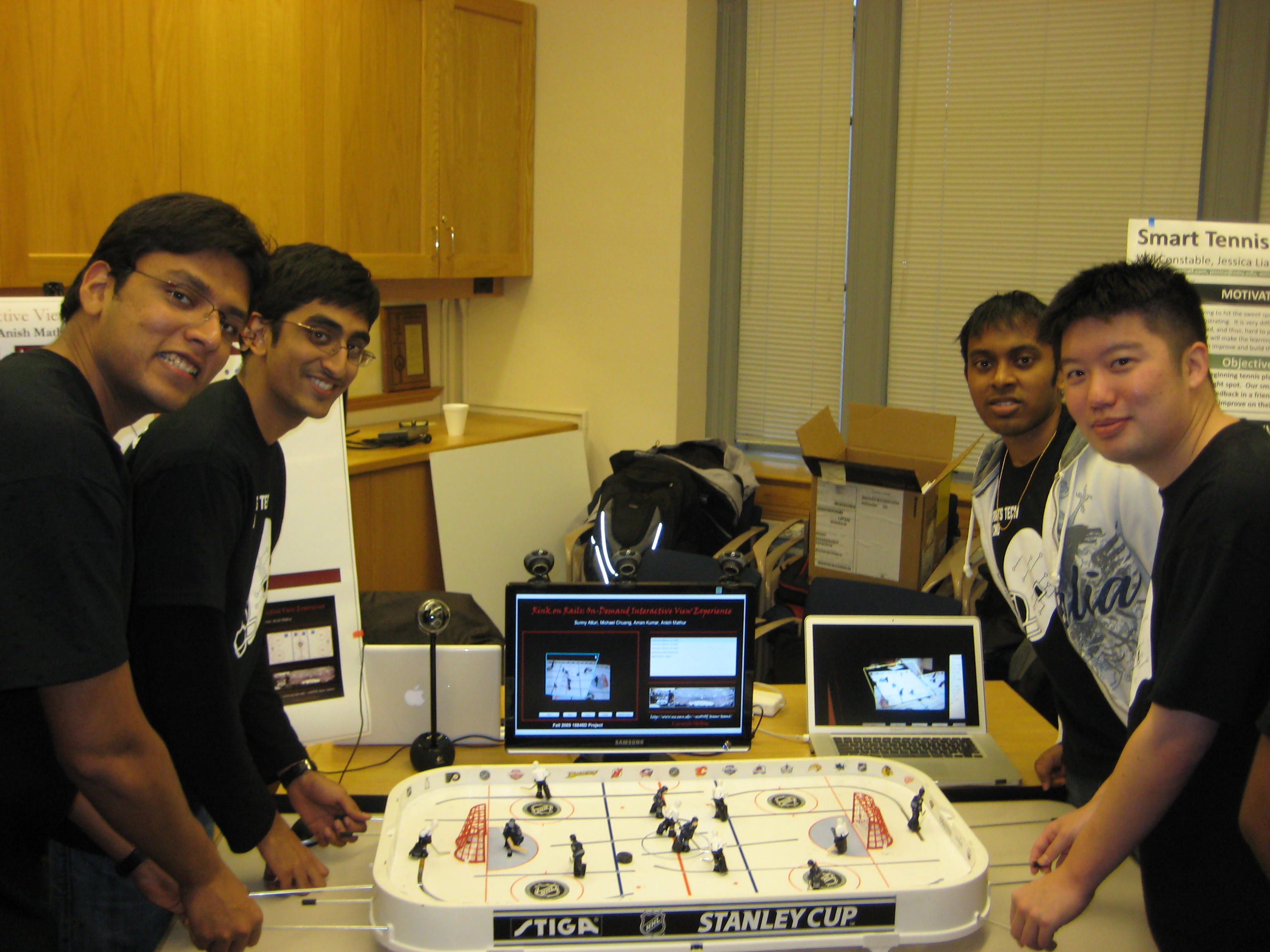 MEMBERS
Sunny Atluri - satluri@andrew.cmu.edu
Michael Chuang - mchuang@andrew.cmu.edu
Aman Kumar - amank@andrew.cmu.edu
Anish Mathur - akmathur@andrew.cmu.edu


Target sport: NHL

Target users: Fans

Executive summary: Often times, many fans do not have optimum viewing angles during game-play. A panoramic view of the rink on the user's display device will provide for an unparalleled viewing experience for all. By synthesizing a multitude of camera feeds to create a panoramic view of the rink and relaying it to a user device, fans will be able to view any part of the rink regardless of where they sit.
Concept & Market/Competitive Analysis, Team Project Presentation, September 2, 2009
Design & Architecture, Team Project Presentation, September 21, 2009
Mid-semester Poster, Team Project Presentation, October 14, 2009
Qualitative & Quantitative Assessment Team Project Presentation, November 9, 2009
Final Demo Video, Team Project Presentation, December 2, 2009
Final Poster, December 2, 2009
COMPETITIVE/MARKET ANALYSIS
PhotoSynth:
Vendor: Microsoft
Pricing: $0
Difference: This is a VideoSynth
EyeVision:
Vendor: CBS
Pricing: > $1,000,000
Difference: Fans can pan with different perspectives
K-System:
Vendor: Kewazinga
Pricing: (out of business)
Difference: This is real-time
TECHNICAL SPECIFICATIONS
Hardware:
IP cameras
Servers
Display Devices
Software:
Server software synthesizes multiple camera feeds into one panoramic feed
Application on display device to view and interact with synthesized view
Protocol:
Functional requirements:
Get multiple camera feeds and synthesize frames synchronously into one panoramic view. User selects a window of this view.
Non-functional requirements:
Maximum delay of three seconds from live action game broadcast rights should be respected, and continues to function with as many cameras as available.
---
Back to the top of this page
18-848d course home page