TEAM 12: TORUSENSE
Spring 2014
---
MEMBERS
Kevin Bravo
Zachary Rousselle
Keith Williams
Nick Zukoski
Torusense is a posture and exterion sensing device that allows users to detect when they are performing an action that will cause injury or hinder recovery such as lifting heavy boxes with a bent back.
The motivation behind Torusense is that every year there are huge numbers of accidents involving sprained, strained and torn muscles that are preventable if those actions were done using the correct form. With Torusense, instead of a USPS driver straining their back and being out of work for weeks, a buzzer would sound letting them know that they are perfoming or about to perform a dangerous action. Instead of being out of work, the driver can correct their posture, lift again, and carry on with their route.
Lumo Back: A posture sensing belt that vibrates when the user is slouching.
Somaxis: A set of wireless EMG sensors that can connect to a smartphone to track muscle use.
Sports Injury Monitoring System(SIMS): Online database application to track sports related injuries and illnesses. Requires input from a doctor or PT
Postsurgical Monitoring: Patient monitoring system using measure through motion to monitor recovery
TECHNICAL SPECIFICATIONS
Hardware:
Arduino Uno
Flex sensors
EMG sensors
Stretch sensors (Resistive rubber cord)
Software:
Android app to read bluetooth and alert
Arduino code to sample sensors
Protocols:
1) Sample biomechanics data accurately during physical activity in real time
2) Relay sensor data to phone
3) Compare data to "better" examples of good posture and form
4) Notify user in real time if a potentially dangerous activity is being undertaken
5) Display diagram on your phone highlighting the muscles that are being used incorrectly
| Risks | Strategies |
| --- | --- |
| Low sensor resolution | Move from wrist/ankle to lower back |
| Bulky sensors that obstruct movement | Move from wrist/ankle to lower back |
| High variance depending on sensor placement | Place relative to well known landmarks and tape |
| Unable to use EMG sensors | Move to pressure sensors or stretch sensors |
| EMG sensor output varying between users | Create profile specifically calibrated for each users |
EMG Sensitivity Test:
Requirement: Need to be able to Diffentiate between lifting with weight and lifting without weight.
Metric: EMG data sensitivity
Test Sequence: Attach emg sensors to bicep, perform 3 curls with and then without weight and see if a difference is observable.
Data:
Without weight: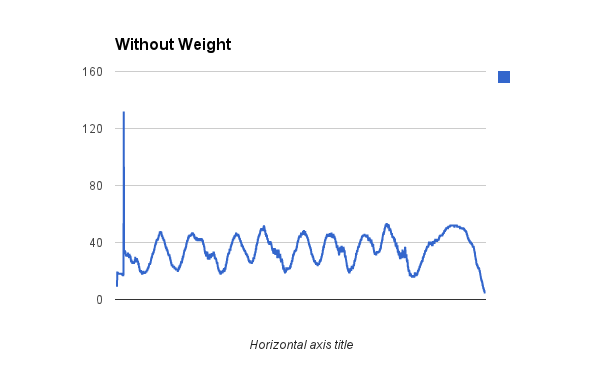 With weight (~25 lbs):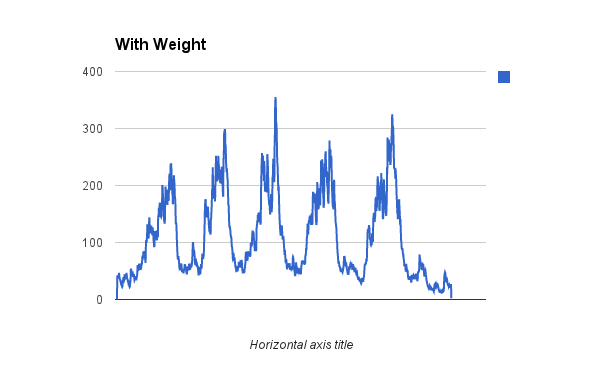 EMG EfficacyTest:
Requirement: Need to be able to diffentiate between lifting dangerously and lifting properly
Metric: How effective EMG data is at detecting when improper lifting is happening
Test Sequence: Attach emg sensors to both thigh and back, perform 3 lifts with proper form and then three with bad form, with and then without weight and see if a difference is observable.
Notes: Only one emg sensor was working at the time of testing so the back and thigh readings were done seperately. This introduced some amount of cross trial noise.
Also the emg chips were being pulled around by the cords which introduced some noise as well.
Third, for the first trial, the data for Thigh bad, no weight was duplicated into the Thigh bad, with weight area.
Data:
Trial 1: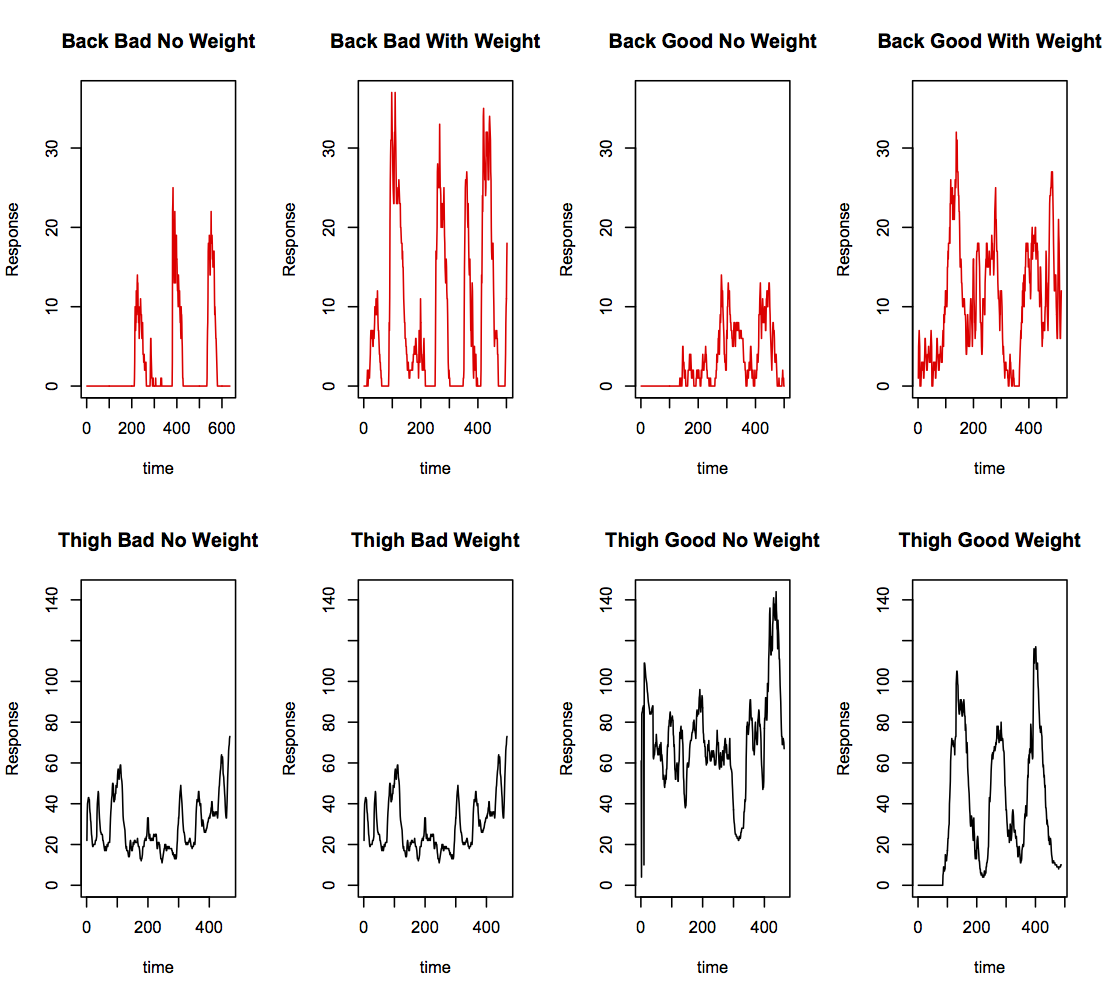 Tial 2: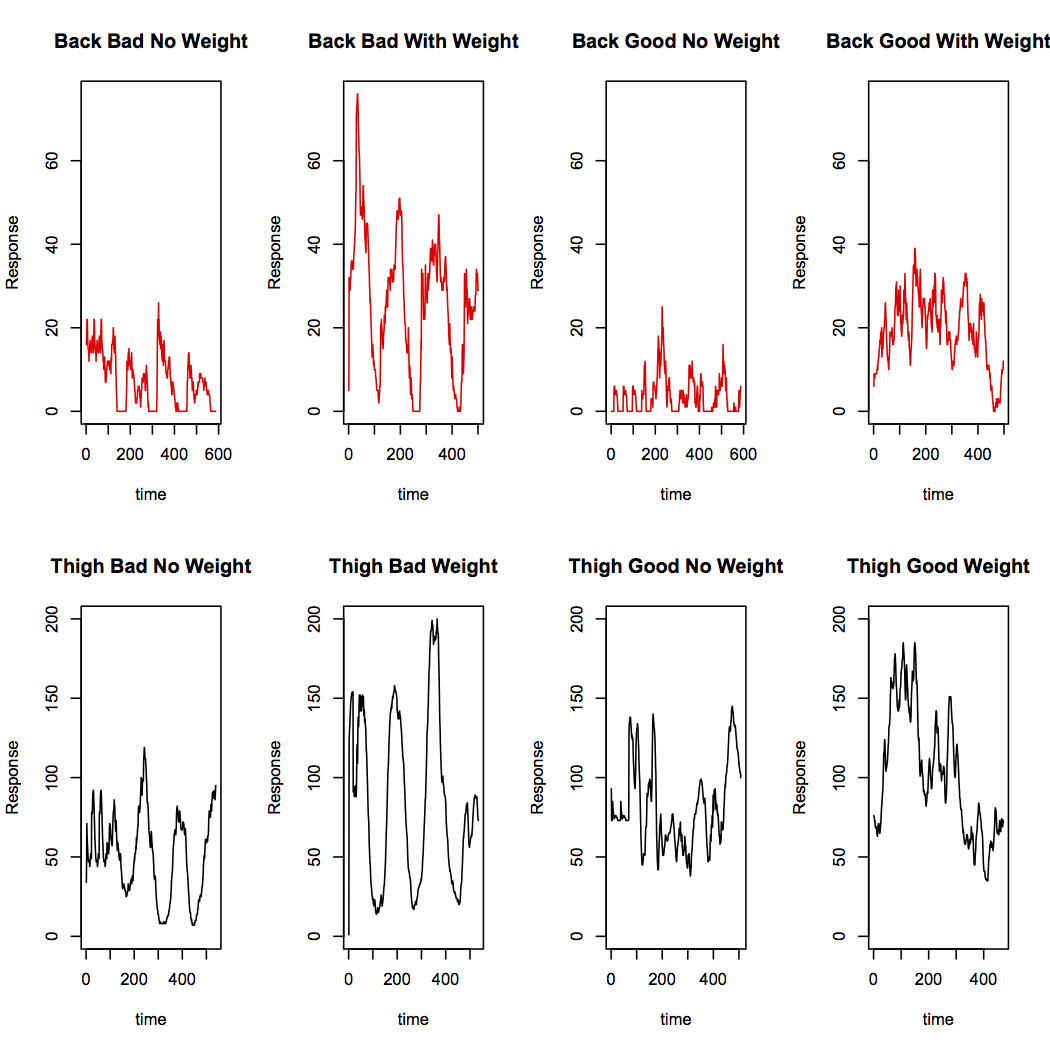 To be completed.
---
Back to the top of this page
18-549 course home page