TEAM 1: Team Handrave
Spring 2014
---
MEMBERS
Laura Bloch (lrbloch)
Sara Roy (slroy)
Matt Sarett (msarett)
Dylan Swen (dswen)
HandRave will allow DJs to control the lights in a party setting with dance movements and hand gestures.
The prototype implements hand and foot sensors which are able to communicate wirelessly via Bluetooth
with a set of party lights.
Today, DJs are restricted to standing behind a DJ table where they control the music and lights using a controller board.
Though some products allow DJs to use a handheld device, there does not exist anything that allows a DJ to move freely among the partygoers.
Our intent is to free the DJ from the constraints of a DJ booth and allow him to add an element of performance to the show.
Numark Orbit Wireless DJ Controller

This gameboy-like controller for lights and music costs about $100. Our product, while comparable in price,
will add a performance aspect to the DJ controls without restricting the DJ to holding a handheld device.

Standard DMX Light Controller

The above is a typical example of a DMX Light Control Switchboard, usually around $120, which the DJ
can use to control the individual channels connected to the lights. While it allows more customization on the part of the
DJ, it restricts the DJ to standing at his DJ booth, and is less intuitive to use. Our aim is to allow the DJ to move
around and worry less about which channels control which features, but rather to understand basic gestures which will
operate his lights.
TECHNICAL SPECIFICATIONS
Hardware:
Chauvet SlimPAR 64 (Party Light)

180 (60 red, 60 green, 60 blue) LEDS;
10mm RGB LEDs produce a powerful, medium speed beam;
Slim line design is only 2.5" thick;
Full RGB color mixing and static color access with or without DMX control;
Built-in power linking;
Pulse effect with adjustable speed;
Beam angle: 23 degrees; Field angle: 38 degrees, Lux: 3,640 @ 1m;
Autoswitching power, 100V-240V 50/60Hz

Velleman USB to DMX Converter

connected and powered through USB
512 DMX channels with 256 levels each
3 pin XLR-DMX output connector
Windows 98SE or higher compatible
DLL included to write your own software
optional 9V battery needed for stand alone test mode
solid state - fuse protection on DMX output
dimensions: 4.2 x 4 x 1.75"

Raspberry Pi

SoC Broadcom BCM2835 (CPU, GPU, DSP, and SDRAM)
CPU: 700 MHz ARM1176JZF-S core (ARM11 family)
GPU: Broadcom VideoCore IV, OpenGL ES 2.0, 1080p30 h.
264/MPEG-4 AVC high-profile decoder
Memory (SDRAM): 512 Megabytes (MiB)
Video outputs: Composite RCA, HDMI
Audio outputs: 3.5 mm jack, HDMI
Onboard storage: SD, MMC, SDIO card slot
10/100 Ethernet RJ45 onboard network
Storage via SD/ MMC/ SDIO card slot

PLANEX 2 in 1 Micro Size USB Bluetooth 3.0 Adapter
For use with Raspberry Pi

Supports standard Bluetooth ver 3.0 + HS
WiFi: IEEE802.11n, IEEE802.11g, IEEE802.11b (2400 ~ 2480MHz center frequency) band 2.4GHz,
WiFi:: Bluetooth: Frequency band 2.4GHz (2,412 ~ 2,472 MHz)
IEEE802.11n/g/b Wi-Fi-capable/Windows 7 (32bit/64bit)
/ Vista (32bit/64bit) / XP SP3 Japanese version (32bit)

TinyDuino

Arduino and LilyPad Compatible
Expandable with Stackable TinyShield Boards, USB, WiFi, Motor Control, GPS, accelerometers
Optional Battery holder (CR1612-CR1632)
0.1" spaced solder holes for external power source
20x20mm
Atmel ATmega328P Microcontroller (same as on the Arduino Uno)
20 I/Os (14 Digital, 6 Analog / Digital I/O)
Arduino Bootloader preprogrammed (uses approx 0.5 KBytes of Flash Memory)

TinyShield Bluetooth

Fully certified Class 2 Bluetooth 2.1 + EDR module
Bluetooth SIG qualified
UART (SPP or HCI) and USB (HCI only) data connection hardware interfaces
Onboard embedded Bluetooth stack (no host processor required)
Programmable low power modes
Secure communications, 128 bit encryption
Error correction for guaranteed packet delivery
UART local and over-the-air RF configuration
Auto-discovery/pairing requires no software configuration (instant cable replacement)
Ultra compact size and weight
Rectangular Version: 20mm x 36mm (.787 inches x 1.417 inches)
Max Height (from lower bottom TinyShield Connector to upper top TinyShield Connector): 5.11mm (0.201 inches)
Weight: TBD grams (TBD ounces)
UART Mode used
Arduino pins 0 – 1 used by this shield (the standard hardware UART lines)
Built in level shifters and linear power supply to allow your TinyDuino to run up to 5.0V operation.
Software:
LibUSB
C, C++
Arduino
Raspbian Wheezy
DMX Daemon dmx.h
Protocols:
DMX - Standard protocol for digital communication. Raspberry Pi controls the lights with DMX in our system.
Bluetooth - Wireless communication protocol. Arduino on glove communicates with light-controlling Raspberry Pi via Bluetooth.
USB - Serial Communication protocol. USB used for a variety of communication paths including Raspberry Pi to DMX controller, and Bluetooth adapter.
Functional:
The first DJ to activate his/her sensors controls all of the lights.
Additional DJs may join the performance
These DJs control only the lights closest to them to complement the original DJ's performance
Sensors on the lights and other equipment detect movement in their direction
Lights respond to movements directed at them
Raspberry Pis will control color, pulse rate, and position of the lights in response to the motion of the DJs
Non-functional:
The communication should be fast enough that any changes in the lights appear to be occurring instantaneously Wireless
Slight movements are not misinterpreted as gestures
Gestures are handled one at a time by atomic processes
If connection is lost, light remains at its current setting
Sensor Range and Accuracy
RF interference on demo day
Usability
TIME LAPSE
Mid-Semester Demo Video
Tests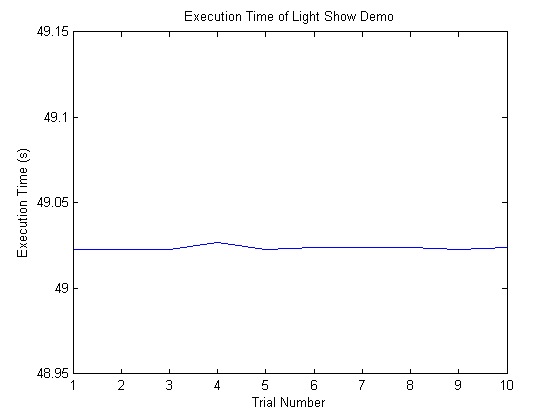 ---
Back to the top of this page
18-549 course home page