AudioArc is a visually appealing sound system. Our product uses plasma audio, a micro-controller, sensors, and an LCD panel to create a computer speaker that will look amazing
18-549 course home page
Modern computer speakers, while they may have fancy LEDs, are typically very boring to look at. Plasma Speakers will use plasma audio technology to create a sound system that looks like a bolt of lightning. In addition, existing plasma audio systems only exist in the "do-it-yourself" niche, and are not available for consumer purchase. We will produce an easily marketable product for all those who want a little flash with their sound.
| Product | Produces quality sound | Safe | Looks like lightning |
| --- | --- | --- | --- |
| Traditional Speakers | Yes | Yes | No |
| DIY Plasma Speakers | Yes | No | Yes |
| AudioArc | Yes | Yes | Yes |
Numerous people have built unfinished plasma speakers. All these are unsafe to use and are not finished products
AudioArc will be a cost-effective, safe, and consumer-ready product.
Hardware:
Dual load-balanced 200V 30A MOSFETs
ATMEGA328 microcontroller
SG3525AN modulator IC
24V 4.5A AC/DC power supply
DIODE FAST 1000V 1A DO-41
DIODE ZENER 12V 500MW DO-35
MOSFET N-CH 200V 30A TO-247AC
IC MODULATOR REG PULSE 16 DIP
IC REG 1A POS VOLT 3TERM TO-220
RES 22 OHM CARBON FILM 1/4W 5%
RES 2.2K OHM 1/4W 5% CF MINI
POT 10K OHM 9MM SQ RTANG PLAST
CAP CER 0.1UF 50V RADIAL
CAP CER 3300PF 50V 10% RADIAL
CAP ALUM 2.2UF 50V 20% RADIAL
CAP ALUM 10000UF 35V 20% SNAP
CAP FILM 1UF 63VDC RADIAL
FERRITE TOROID 25.3MM OD
SILICON GREASE 4 GRAM
CONN JACK STEREO R/A 3PIN 3.5MM
ISOLATOR OPTICALLY COUPLED 125MA
THERMAL PAD TO-220 .009" SP400
POWER SUPPLY 24V 4.5A SGL OUTPUT
ARDUINO UNO BOARD REV3
HEATSINK TO-220 W/PINS BLK 2"
Software:
Custom software for controlling sensors
Schematics: click to view full image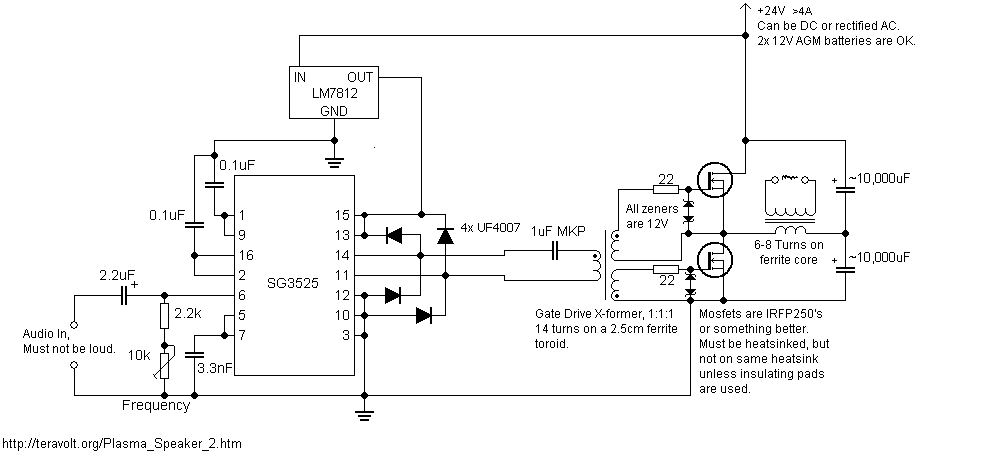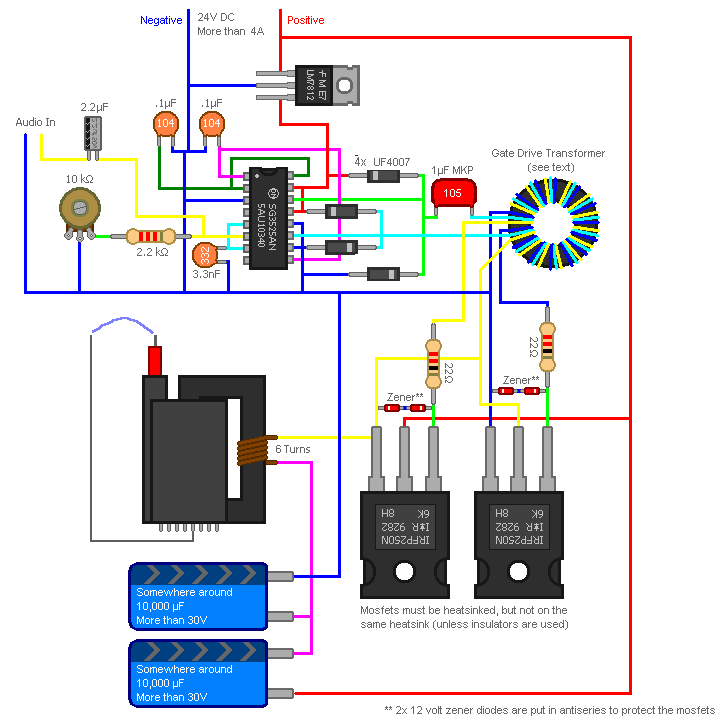 Be able to connect any device using a headphone jack
Display audio statistics such as volume
Arc is enclosed for safety while remaining fully functional and providing good acoustics
Overheating: Use temperature sensors to monitor the speaker and regulate the arc
Voltage is too high: Use a voltmeter feedback loop to regulate the arc
Current is too high: Use an ammeter feedback loop to regulate the arc
Objects that touch the plasma arc burn: put the plasma arc in an enclosed structure to prevent physical access
Exploding components: order extra parts
Time Lapse