MEMBERS
Mishari Alarfaj (

ude.umc.werdna@jafralm

)
Bryan Hinch (

ude.umc.werdna@hcnihb

)
Kishore Ramaswamy (

ude.umc.werdna@awsamark

)
Gregory Collins (

ude.umc.werdna@snillocg

)
This system uses cell-phone communication technology along with GPS in order to set up a shared location-tagging network. This can be used to share GPS locations of interest with other users in numerous applications such as social networking, first-response, and civil infrastructure.
Our system will greatly facilitate a number of logistic applications. People will be able to set up points of interest that they can share with their friends. These 'breadcrumbs' can include descriptions such as a recommended restaurant, a scenic view, or a free concert. Also, our system will greatly make it easier for groups trying to set up rendezvous points in real time. For example, the system can be extended to help first-responders by providing them with useful location information such as the scene of a fire, nearby fire hydrants, or the location of other teams. An even larger-scale vision is using the system to inform the public of changes in civil infrastructure, such as detoured roads, gojira, water main breaks, or other hazards.
Garmin Rino: GPS navigation device that shares it's position with other Garmin Rinos. Our system is different because it will work with a variety of phones and is more geared towards social networking.
AccuTracking: Internet service that allows users to track where various cell phones are located. Our solution is different because we allow users to add GPS-tagged information to a map rather than simply tell them the location of certain phones.
Hardware:
Desktop/laptop for server
Software:
Java for server application
MySQL for server backend
J2ME
Protocols:
Bluetooth
TCP/IP over GPRS
Functions correctly

User can accurately see their own coordinates (will need 3 satellites for triangulation)
User can view the waypoints left by themselves and others
User can view the nearest 5 breadcrumbs from the current location

Has a GUI that is easy to use and understand
Server must be able to communicate with several users at once
Must be able to function in real-time; require only a couple seconds to exchange data with server
System must be both portable and durable
Must be reliable

Be able to handle protocol failures
Notify the user gracefully about connection issues between devices
Not guaranteed to recover from hardware failures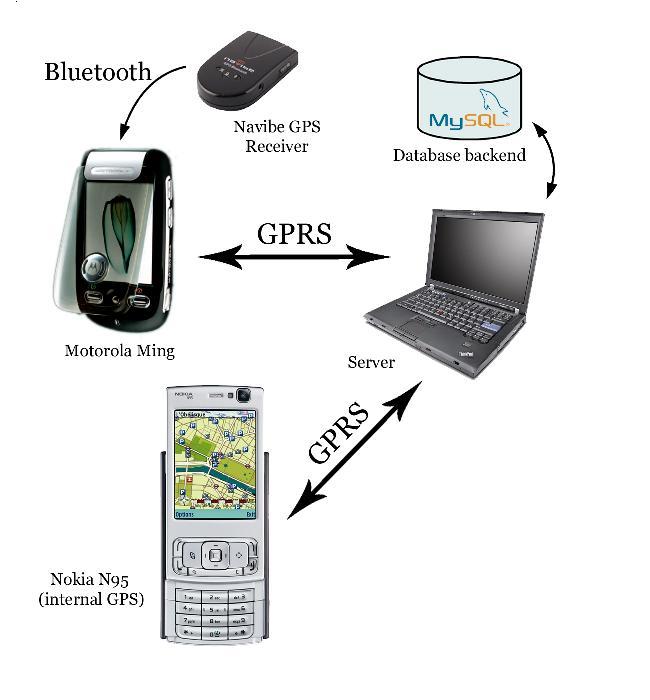 Power On
Server assumed to be running
User starts phone application
Application searches for/pairs with GPS device
Application retrieves initial information from server
GUI ready for user interaction
Power Off
User closes application
Application closes connection with server
Application closes connection with GPS device
Application quits
Post Breadcrumb
User enters text to post on the map
Application submits text plus NMEA data to server
Server creates an entry in the database
Application refreshes list of breadcrumbs
SYSTEM STATES & TRANSITIONS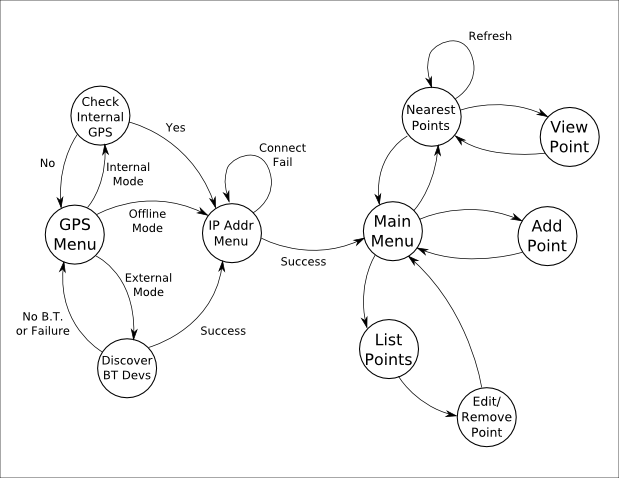 | | |
| --- | --- |
| Risk | Mitigation |
| Will be hard to receive GPS indoors. | Must emphasize strengths of outdoor use, rather than for indoor tagging (system probably too inaccurate for room-to-room tagging anyway) |
| Will need to communicate with more than one phone at once. | Set up a server that uses threading to handle multiple connections. |
| May not have access to many of the core functions of the phone. | We may have to hack the phone to access all of its features. |
| Data/Packet loss. | We plan to send the data several times and use a verification system to ensure that we receive the proper data. |
| | |
To be completed.
To be completed.
To be completed.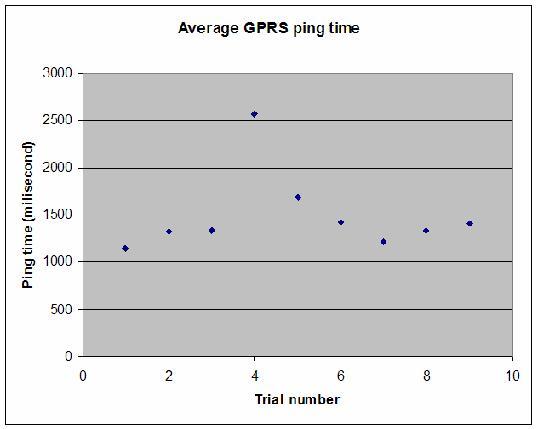 Support is essential for working on a platform

Development tools are critical

Need to research the full capability of a technology before selecting it
In-depth planning is more important than it seems.

Protocols, state diagrams, etc.

Java is a horrible language for embedded systems, and companies support it more than they should.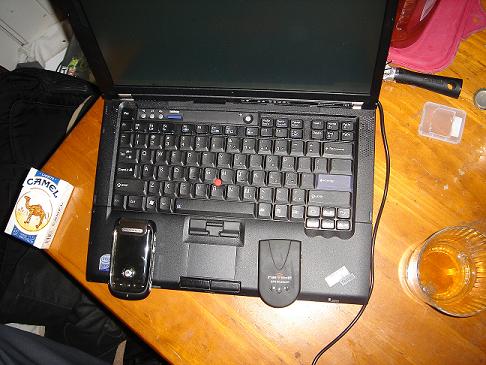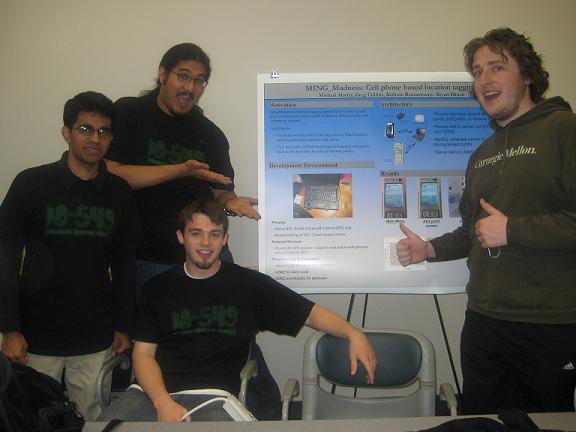 ---
Back to the top of this page
18-549 course home page