TEAM 6: Healthnet
Spring 2008
---
MEMBERS
| | | | |
| --- | --- | --- | --- |
| John Bauman | Kyunghwan Choi | Eugene Marinelli | Adam Goldhammer |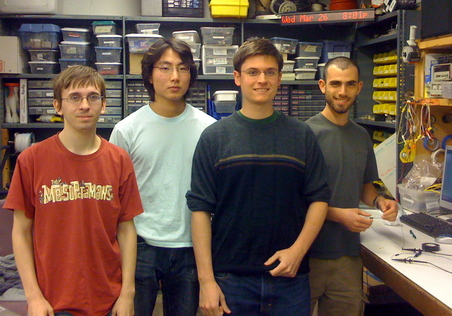 Give consumers access to their personal physiological data.
Wireless network of sensors on the body to process and record EKG, temperature, and location data.
Current consumer fitness products only report heart rate and blood pressure data.
Devices in the medical industry capable of more detailed reporting are not very portable and often expensive.
Our product will allow consumers to record detailed physiological information at their convenience.
Power Glove Basic Strapless Heart Rate Monitor




Requires no chest strap
Simple 2 button Operation
Cheap ($80)
But this is a very basic unit which displays the heart rate only




Garmin ForeRunner 301 speed & distance watch with heart rate

Manufactured from the biggest GPS company
Provides precise latitude, longitude, and altitude data
Amount of calories burned
Performance data can be archived
The user can create, analyze and store workout data on PC
Heart rate monitor
Costly ($200)




TIMEX BodyLink Trail Runner

A famous watch company with the unit
Provides Latitude, Longitude, Altitude and elevation data with ascent and descent rates
Ability to add 10 waypoints
Realtime, average and max speed
Continuous odometer
Current pace, average and best pace
Expensive ($300)
Sensor modules

Physical sensor - Telos tmote (with EKG pad, pulse oximeter).
Send data wirelessly to sensor server.

Sensor server

Wearable Gumstix ARM board wired to one sensor, and equipped with Bluetooth transmitter.
GPS connected to grab location data
Screen for displaying current data to user
Embedded software manages data from the sensors and interfaces with a personal computer.

User interface

Desktop application for uploading data from the sensor server via Bluetooth.
Web interface for viewing and sharing data.
Wireless sensor network of EKG pads, pulse oximeters, and other types of sensors.
Wirelessly transmit data to a personal computer for analysis and visualization.
Display heart rate and energy expenditure data.
Make hardware system convenient and portable.
ARCHITECTURE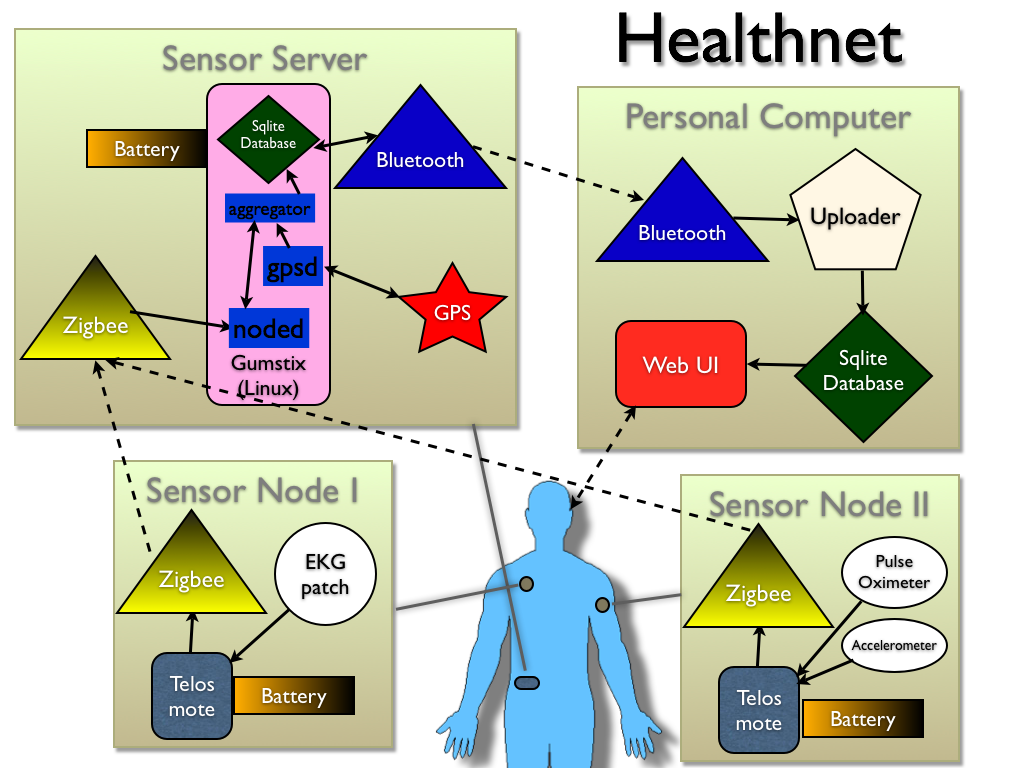 USE CASES (INTERACTION DIAGRAMS)
Use cases (PDF)
| | |
| --- | --- |
| Risks | Mitigation Strategies |
| Problems with sensors and nodes | Alternative node hardware: mica2dots |
| Inability to support data rates between devices | Compression and less frequent trasmission |
| Bluetooth | USB |
| Data integrity | Error detection. Variety of sensors |
Sensor modules

Hardware

2 Telos tmote sky units
Node 1 - Pulse oximeter and accelerometer used for pedometry.
Node 2 - EKG.

Software

TinyOS 2.0 + nesC
Simple software - read data, multiplex it, send wirelessly
Have to keep time synchronization with server and other nodes, so synchronize time at startup and occasionally afterwards

Sensor server

Software

The aggregator daemon polls for sensor values and stores them to a sqlite database.
gpsd is the daemon which communicates with the GPS device and serves the user's current location. The aggregator requests the location from gpsd using a TCP socket.
noded handles communication with the sensor nodes.

Hardware

PC

The uploader script requests data entries from the Sensor Server and stores each entry in a local sqlite database.
The user interface is implemented in PHP and uses jpgraph to generate charts and maps.

Common

The database schema

Bodystats contains the data from the body sensors

Time
Exercise ID
GPS Location Data
Heart Rate
Pulse Ox
Temperature

Users contains the user data so the data can be personalized

User Name
Password
Height
Weight

Exercise Route contains the usual exercise route data

Exercise ID
User Name
GPS Location
Sensor Nodes

Startup - This will actually happen often, and we can just turn on the power fault-free.
Transmitting data - occurs, makes sensor - this is the cornerstone of the project, just transmit data fault-free.
Concurrent Nodes - it will be necessary for us to have more than one node, we can just run multiple nodes transmitting data, fault-free
Time Synchronization - do times match up afterwords - we need to make sure that times match up so that we can correlate data - we can test this by injecting events to two or more nodes, and making sure that the times match

Sensor Server

Startup - obviously necessary, just turn on the power.
Pairing with computer - without this, no data works - just attempt to pair from a computer and make sure it works.
GPS data - this is a nice device function - move to places, find latitude and longitude from GPS, and compare with real location - fault-free.
Connection with sensor nodes - otherwise data will never be collected - run normal system fault-free.
Connection with upload program - otherwise data will never be collected - run the uploader script fault free.
Stress test communiations - bandwidth, reliability - want to make sure it always works at uploading - test sending and receiving fault-injected stuff (interference from other motes)
Test aggregating data - we want all data to be transmitted well - collect two or more types of data and upload all of them fault-free.
Test communication between modules
Simultaneous access to database
Shutdown
Unexpected shutdown
Memory fills up
GPS sending rate
Test GPS inside, outside

Computer

Stress test uploader program - there will be lots of radio noise, problems - add lots of bluetooth and wifi devices and make sure the program still works.
Pairing over bluetooth
Receiving illegal values - Our code will be buggy, so we don't want to crash the computer - send illegal values, and make sure the computer will handle them (fault-injected).
Charts are accurate, correspond to data - user confused if charts all wrong, defeats device purpose - put known data in database, compare against chaarts (fault-free)
Correct set of data is saved - user angry if device deletes data - send known data, and make sure it is all saved on computer (fault-free).
Transmission rate (Sensor server - Computer)

Time transmission of datasets of known sizes. Divide time by data set size.
Data must upload in a timely manner.
Units: s

Amount of data that can be stored on sensor server

Run sensor server until memory is full, record data set size.
Document maximum time sensor server can run between uploading to a computer.
Units: MB or hr

Battery life (nodes and sensor server)

Run unit till power failure.
Average battery life must be documented for users.
Units: hr
FUN STUFF
Sensor server and sensor node prototypes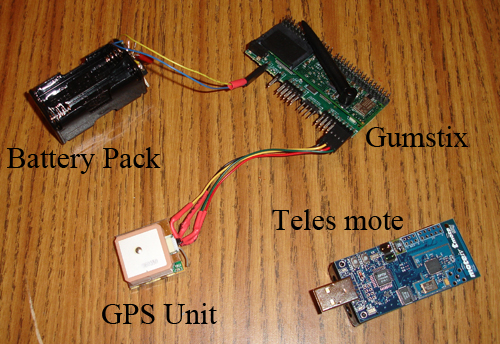 Hardware at final demo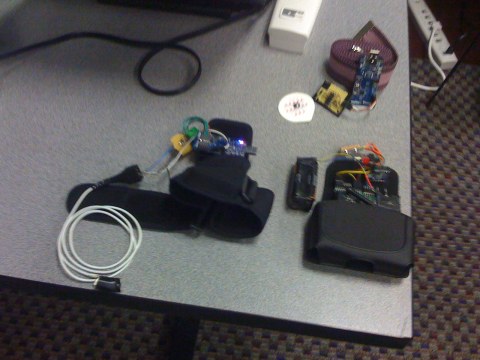 ---
Back to the top of this page
18-549 course home page