TEAM 5: Action Seeker
Spring 2008
---
MEMBERS
Vivan Shah
Jeff Mori
Shauna Ormon
Sue Lai
A visual and interactive hand-held device to aide football fans in viewing every angle of the game action, no matter where they are seated in the stadium
The LCD touch-screen will make it easy to switch camera angles and allow the user to view instant replays.
Integrated live feed of Yahoo fantasy football stats into the device.
MOTIVATION
Gives fans something to do between plays & during commercial breaks
Helps out those in distant seats
Provides an interactive element to football games
People can get stats and maybe short clips on their cellphones. Angles and clips are predetermined by third parties
Advantage: user gets to control which camera they want to see
Advantage: Fantasy football stats integrated into the device, users can see the stats of their fantasy team in real time.
Hardware:

Nokia N770 internet tablet (runs on linux)
400mhz ARM cpu
PC Server for transcoding and streaming
USB-connected web cameras for testing
Wireless router
Software:
Software "Multiplexer" to manage multiple input and output streams
User interface on handheld device
audio/video codecs for compression
Protocols:
Fantasy Football stats integrated into the UI and updated after each play
User can view thumbnail views of each camera angle
Switching of camera angle at will
For each camera, have the option of viewing a replay of the last play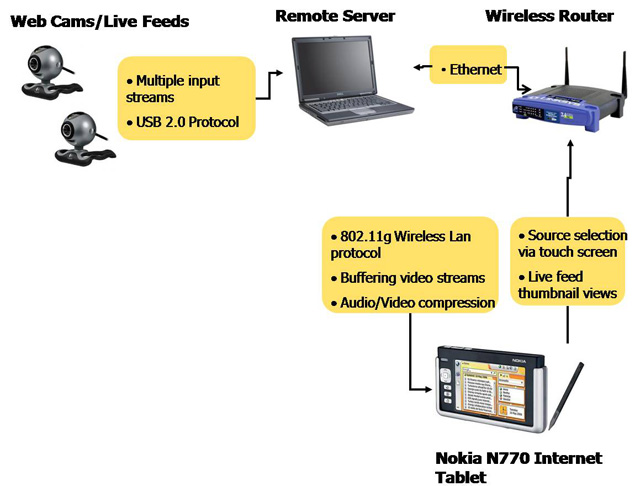 USE CASES (INTERACTION DIAGRAMS)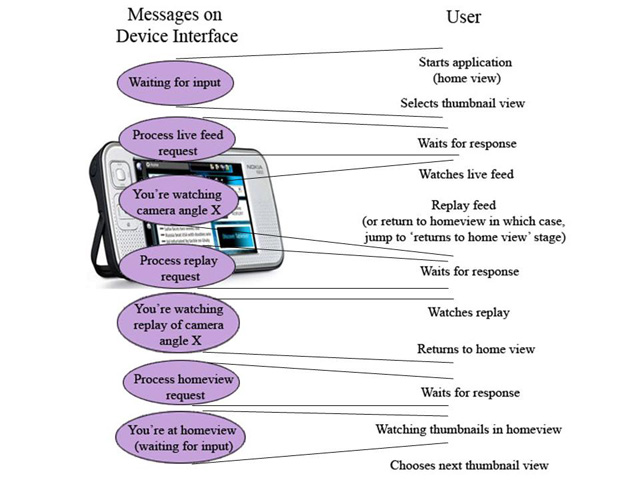 To be completed.
| | |
| --- | --- |
| RISKS | MITIGATION |
| Security across WLAN network | Static IP/MAC address filtering and WPA encryption |
| Delay in switching between different sources | Add buffering feature to all live feeds |
| | Increase buffering capacity on the live feeds |
| | Localize wireless access points to seating "zones" |
| | Designate video streaming servers to seating "zones" |
ERROR HANDLING
To be completed.
To be completed.
Application Startup (homepage appears)
Icon link functionality (latency)
Local movie playback (different bitrates)
Wireless streaming quality (different bitrates)
From movie back to homepage (quits gracefully)
Quit program from homepage
EXPERIMENTAL EVALUATION (Metrics)
Responsiveness of User Interface
Video Quality

Resolution -> 320x240 or 640x480
Bitrate -> 128kb/s to 1024kb/s

Buffer Size

Large Buffer (300ms)-> Avoids jitter
No Buffer (0ms)-> Avoids drift

Latency

Webcam to Laptop -> Transcoding
Laptop to N770 -> Streaming

CPU Usage
LESSONS LEARNED
To be completed.
Theme?
---
Back to the top of this page
18-549 course home page