! ---- PN: Change "Project" to your project name --- >


<! -- PN: Change "X" to your team number --> <! -- PN: Change "Moniker" to your team's cool name -->
TEAM 5: HeartSavers
Spring 2007
---
MEMBERS
Chris Hoffman
Ryan Kellogg
Mike Zizza
The goal of this project is to build a wearable ECG monitor that fits comfortably into daily living. The system integrates electrodes and an embedded microcontroller into a shirt and sends cardiac signal data over bluetooth to a smartphone or PDA where it is processed in real-time to detect cardiac events and issue warnings to the user.
MOTIVATION
Existing ECG monitoring solutions are not suitable for sustained wear during daily activities due to uncomfortable electrodes and cumbersome wires, short battery life, bulky design, and the requirement that data must be taken to a doctor's office for processing. Our wearable ECG device will enable cardiac patients of all types to easily monitor their heart for irregularities or warning signs, store and send cardiac data to their physician, and detect problems early for better health.
TECHNICAL SPECIFICATIONS
Hardware:
ECG amplifier circuit
Macintosh Powerbook Pro w/ Bluetooth
Software:
Mac App for displaying ECG waveform and heartrate
Protocols:
Serial over Bluetooth
I2c (inter-integrated circuit)
Data Transfer over Serial ( comunication between gumstix and robostix )
Functional:
Measure ECG and store relative data
Process ECG data and determine location of QRS complex.
Display graphically ECG signal and processing results
Non-functional:
Low latency < few seconds
Measure data -> detect problem -> prompt
Low Power Consumption
Batteries last for approximately 6-8 hours
Portability
Worn comfortably and not interfere with activity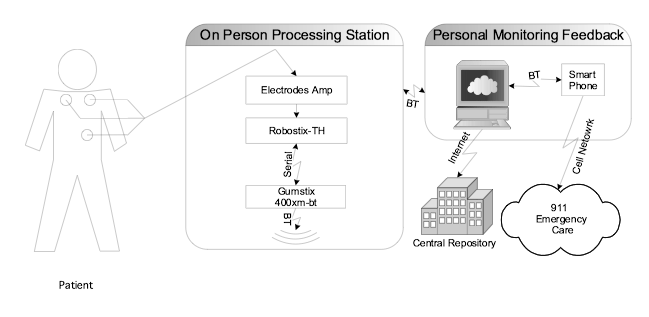 USE CASES (INTERACTION DIAGRAMS)
Bootstrap

Tear-down

Patient at rest

Patient active

Patient in danger

Query

Reliability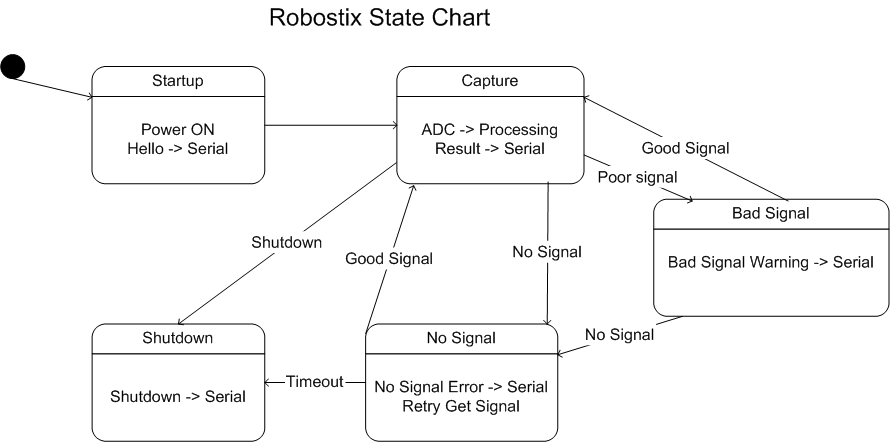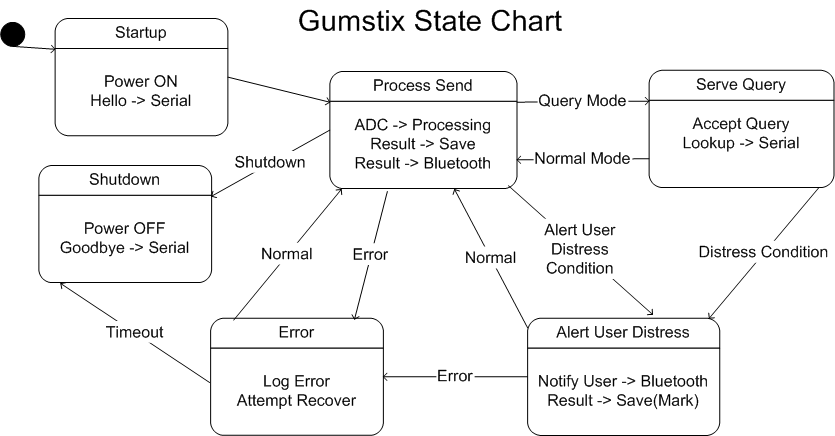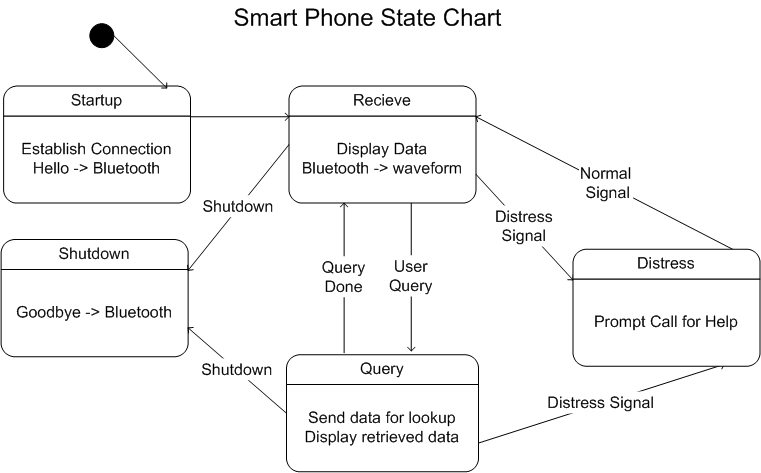 RISKS AND MITIGATION STRATEGIES
Measuring and Quantizing Signal
Simulating Danger Condtions
Bluetooth Signal Interference
Data Management once acquired
Loss of Comunication:

Attempt to reconnect
power down after timeout
Eye Candy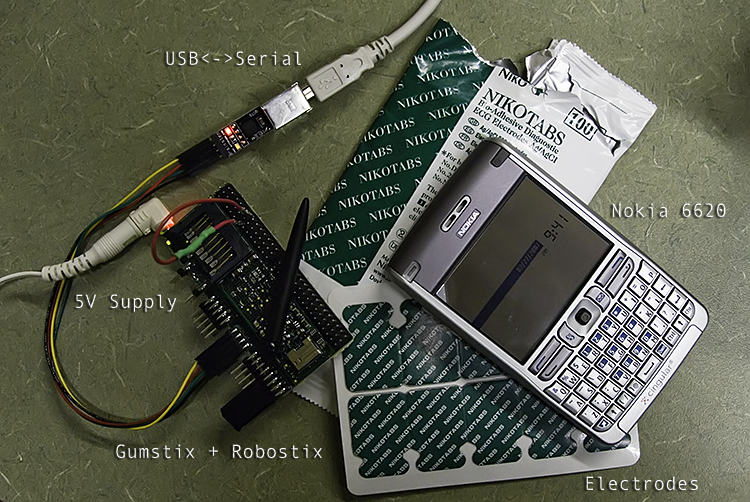 Software Architecture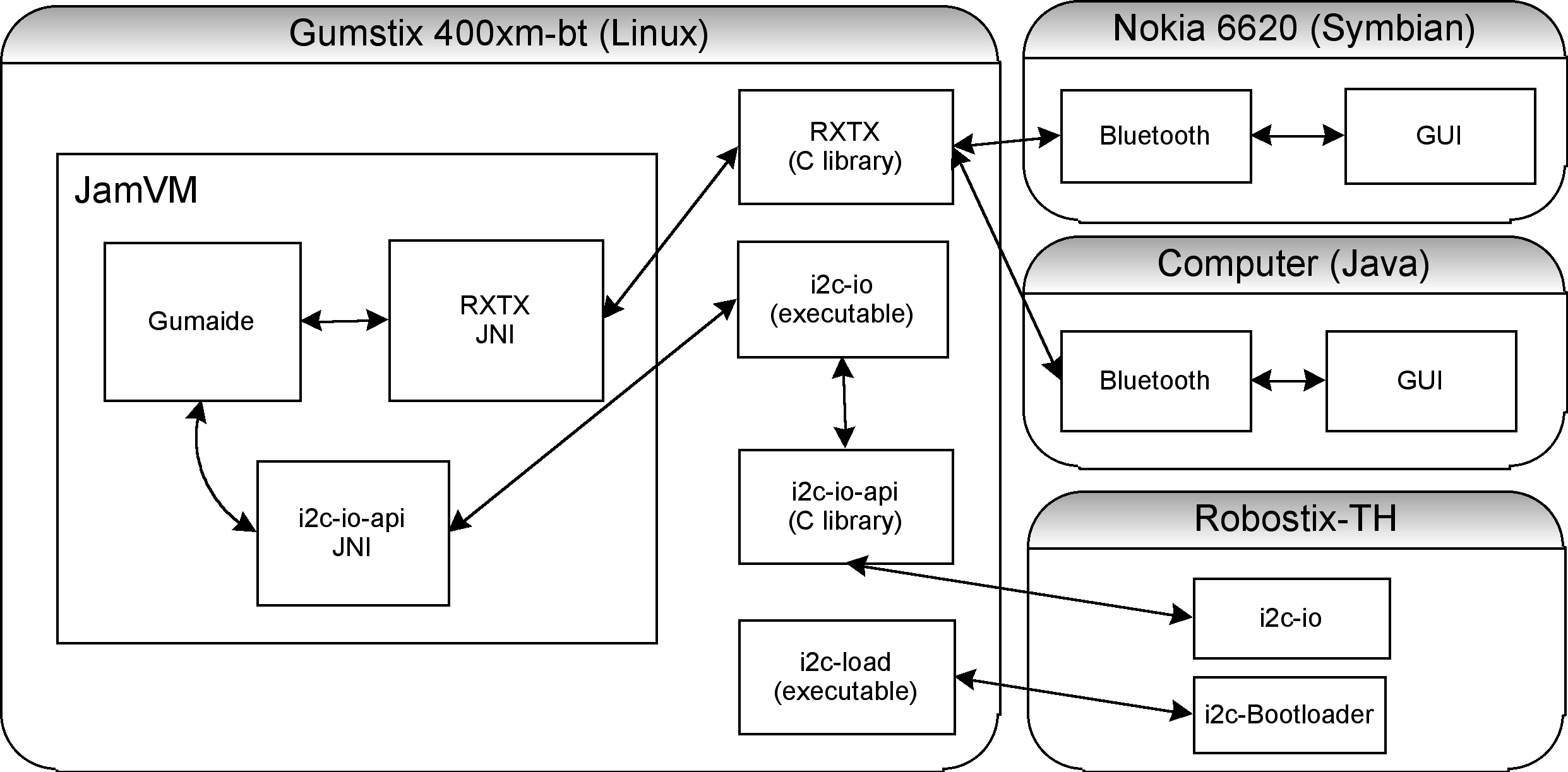 Coming Online ( Bootstrap Use Case )

Why: To testing power up sequence to ensure proper connections between components are made
How: Repetedly power cycling components at varying rates
Type: Fault-free

Shutting Down Gracefully (teardown use case)

Why: To make sure that objects can shut down cleanly and user knows about it.
How: Repetedly power cycling components at varying rates.
Type: Fault-free

Transmitting Data( between sensors, embedded hardware, and phone)

Why: To test the communication path of data for end to end latency (signal read from sensor -> wave displayed on phone)
How: Using timestamps to measure the latency.
Type: Fault-free

Processing Data

Why: To test the Accuracy and performance of the ECG algorithms
How: Using timestamps to measure the latency varying heartrate and testing detection.
Type: Failure-injected

Request From Memory

Why: To test the memory retrieval functionality
How: Using timestamps to measure the latency from request time to the display of the query
Type: Fault- free

Failure Contition

Why: To test the robustness of system to gracefully recover or shutdown if there is a failure.
How: Inject Failure in one area of system and observe what happens.
Type: Failure - injected
Hypotheses

QRS Detection has dependency on number of datapoints processed not heartrate
QRS Feature detection does have a heartrate dependency

Metrics

Time to analize data
Accuracy - tuning threshold parameters to detect QRS complex

Experimental Documentation
Graphs and Results
Verify that your hardware ships with all the components you need. (PowerSupply)
How to transfer files over serial to Gumstix
Cross compiling on Gumstix and Robostix
Make sure Drivers Work for the involved opering system
Easy way to fry the board -> Disconnect gumstix and Robostix while powered on.
Mineaturized boards don't have access to standardized connectors (JTAG)
Analog is hard to get right
Timing function on Gumstix is hard to get right.
I2C on Robositix is quirky and breaks under certain conditions
Make sure you always try to laugh and have fun.
Testing at the Robotics Club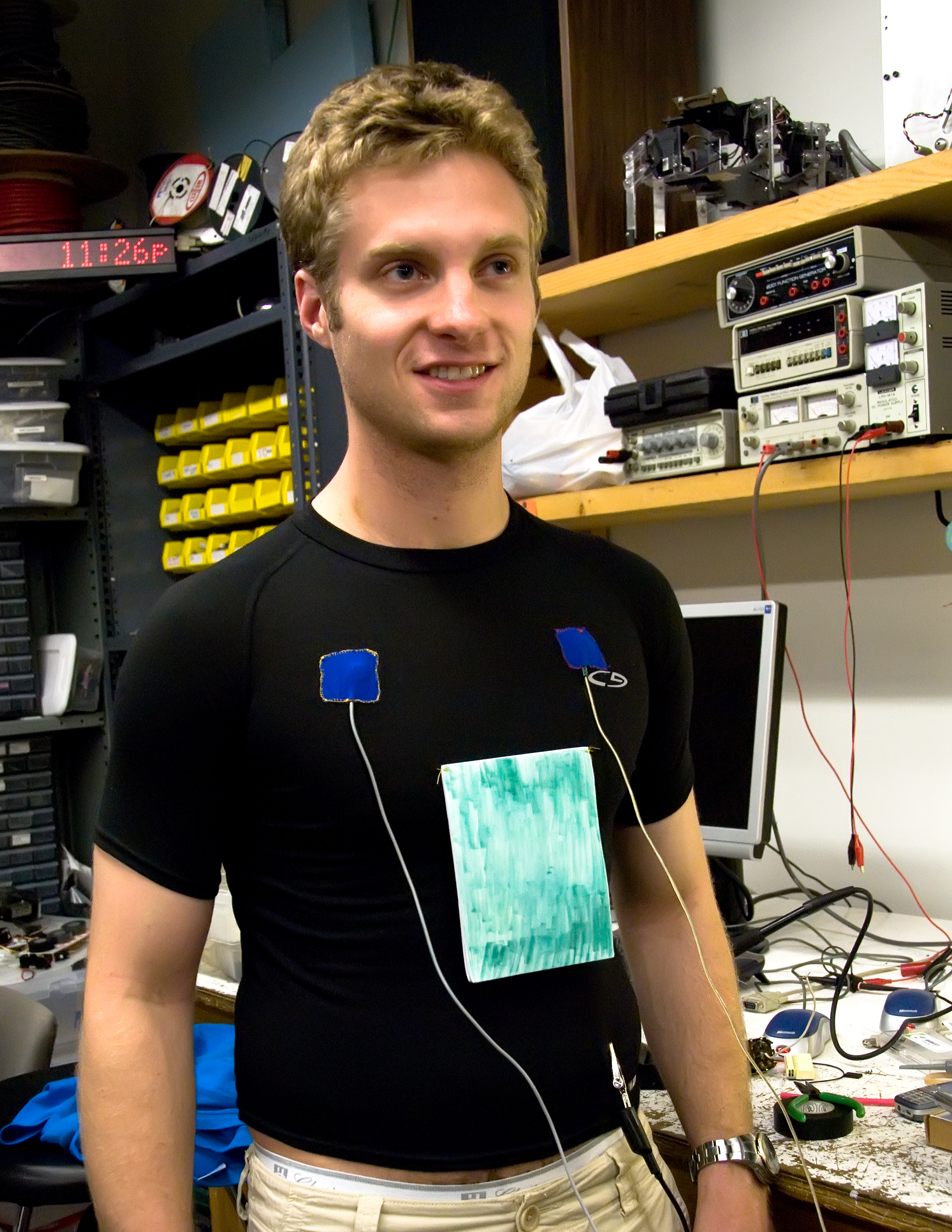 Thanks to the kindness of the other groups in the lab ... I did not recieve many complaints about my exposed smelly feet.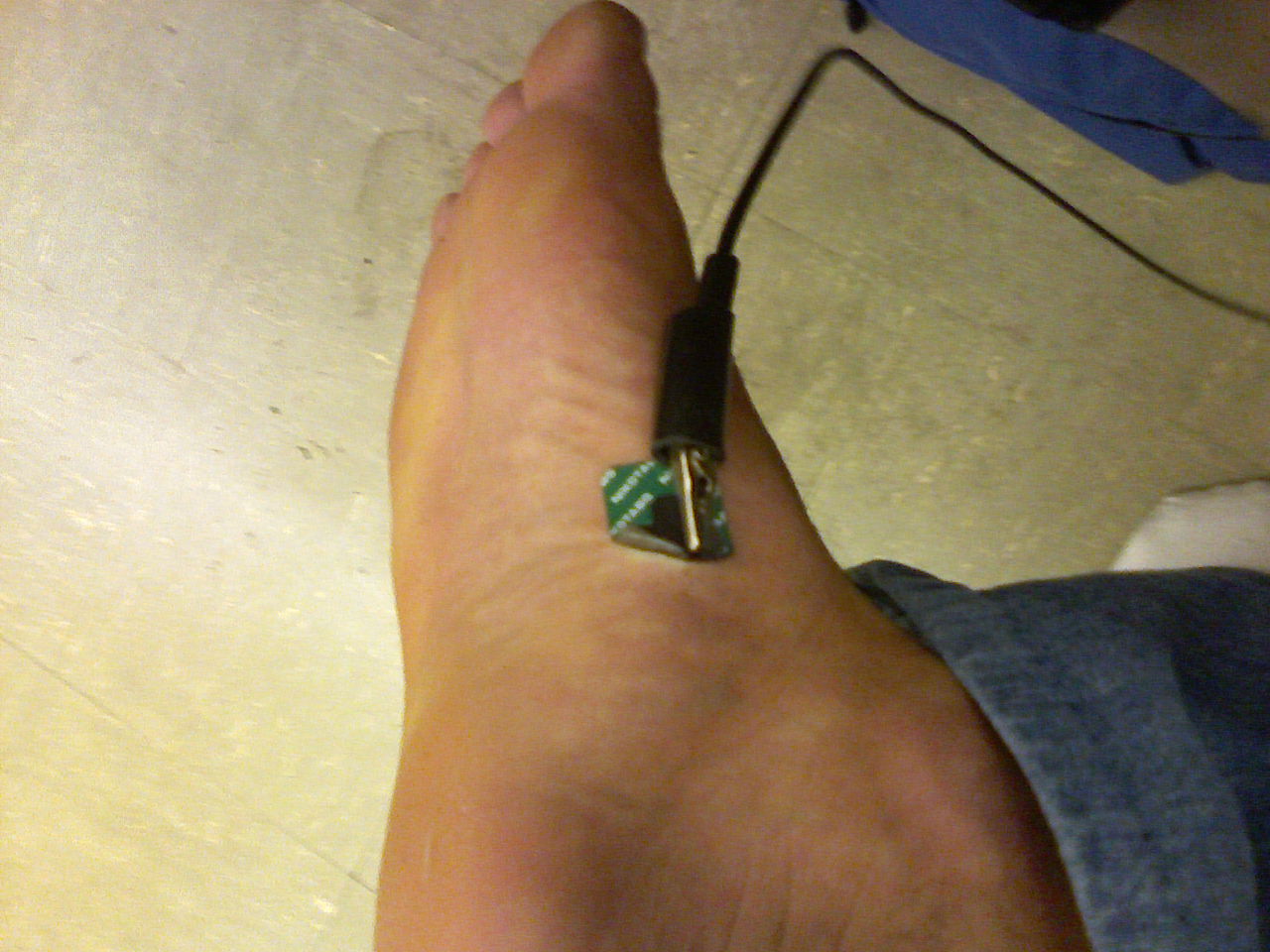 In Lab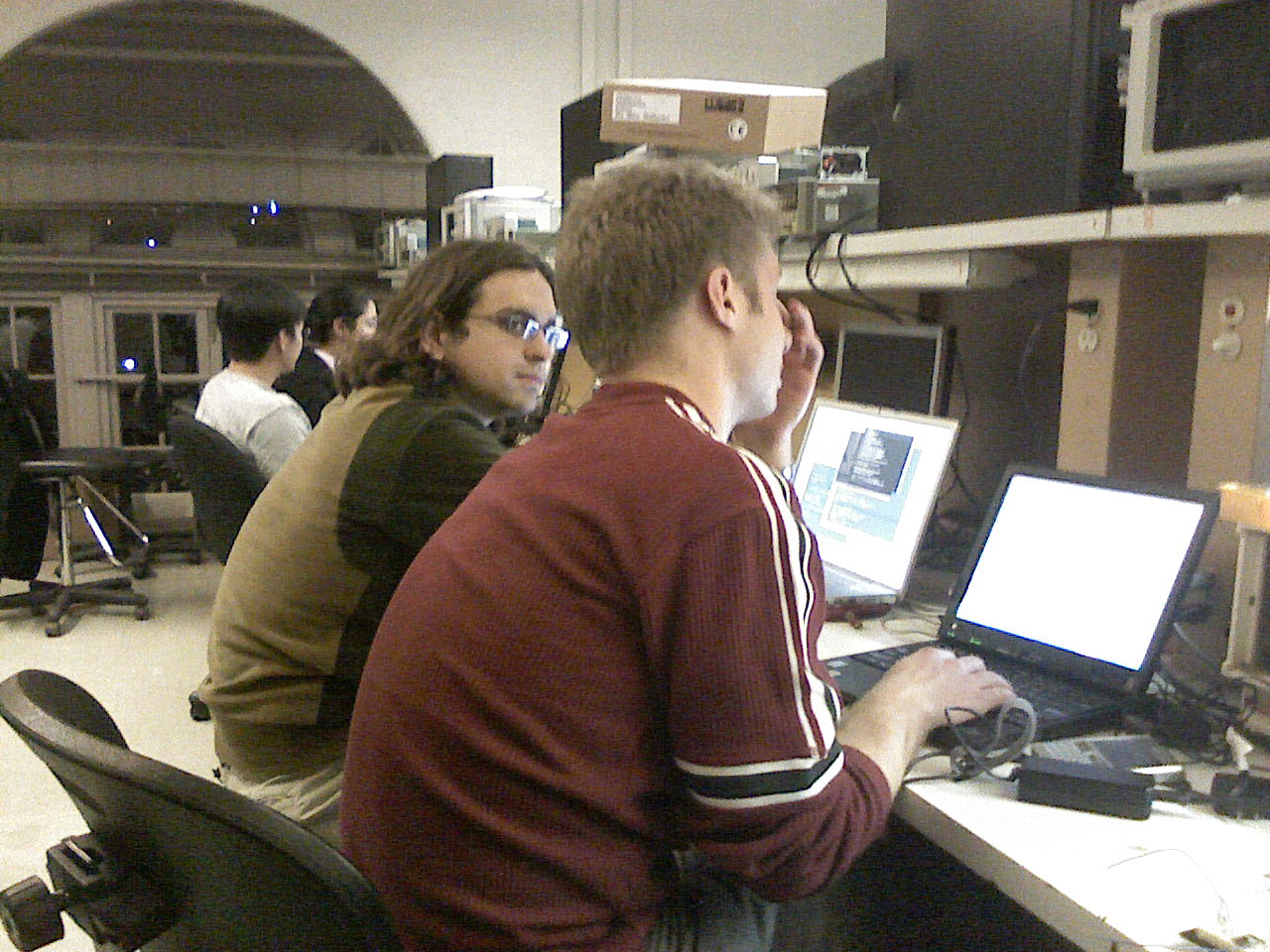 Testing shirtless!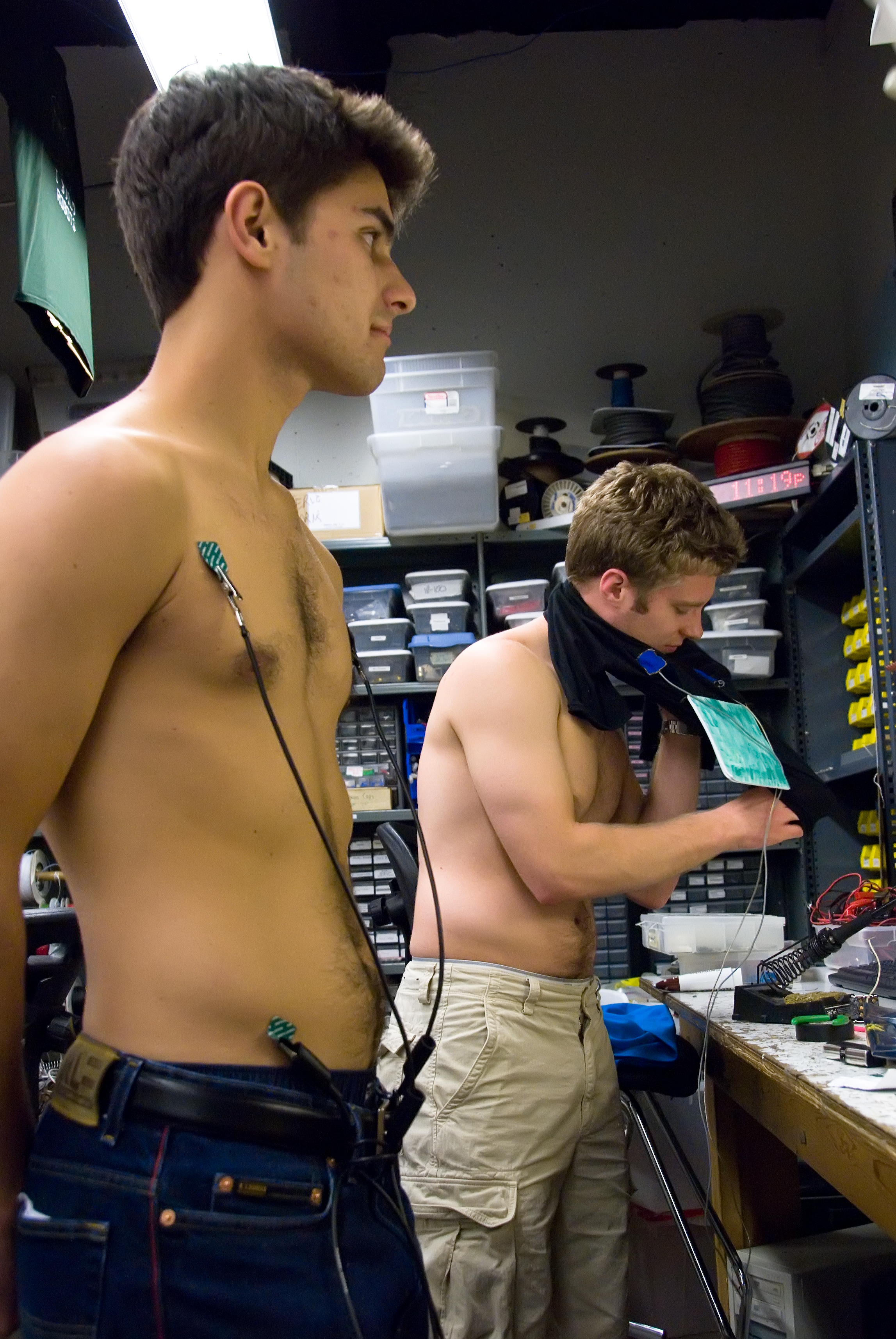 Our moment of Joy!!! when this was on the Scope.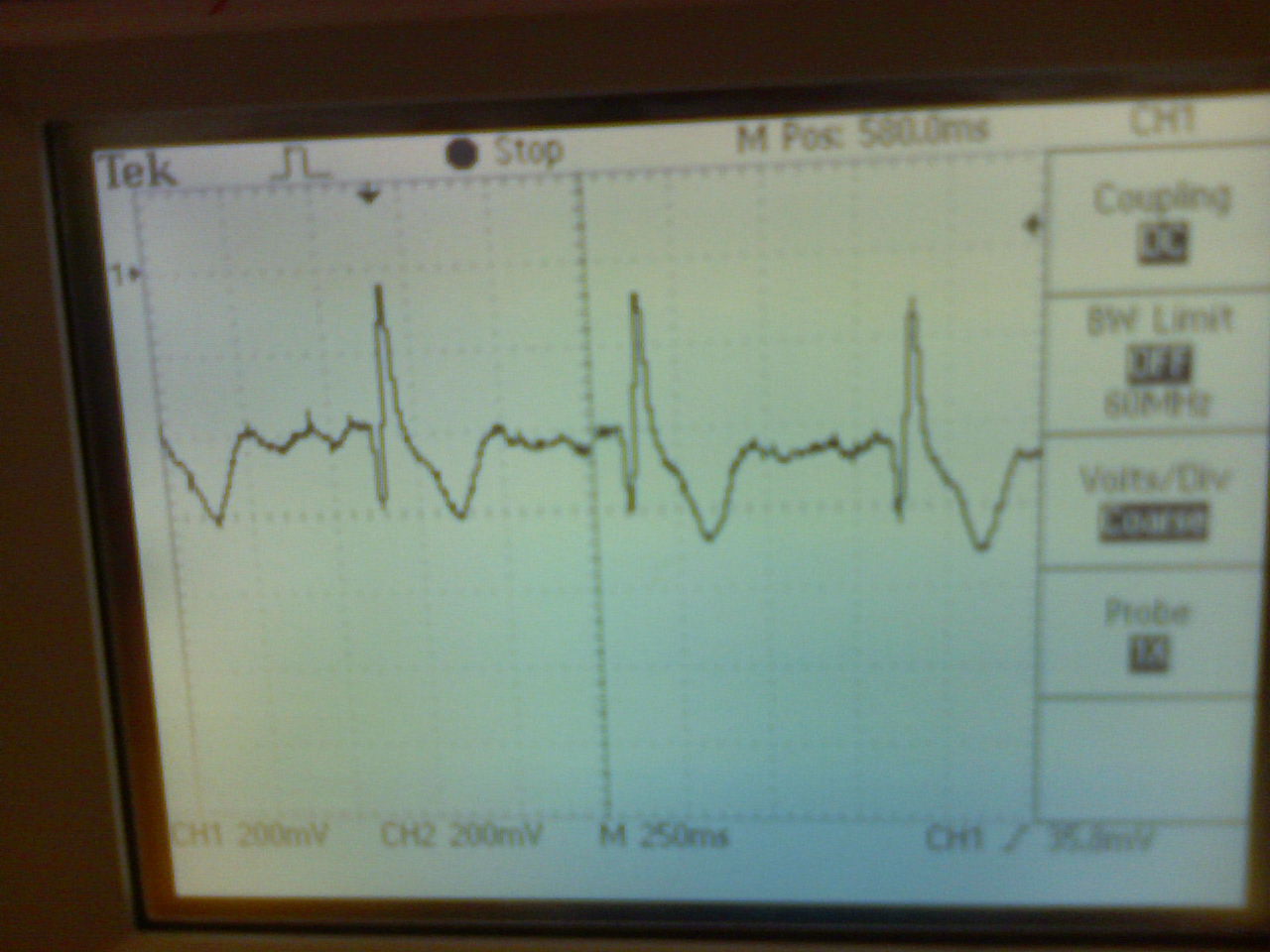 Circuit on Ryan's Shirt Transmitting and being displayed on Laptop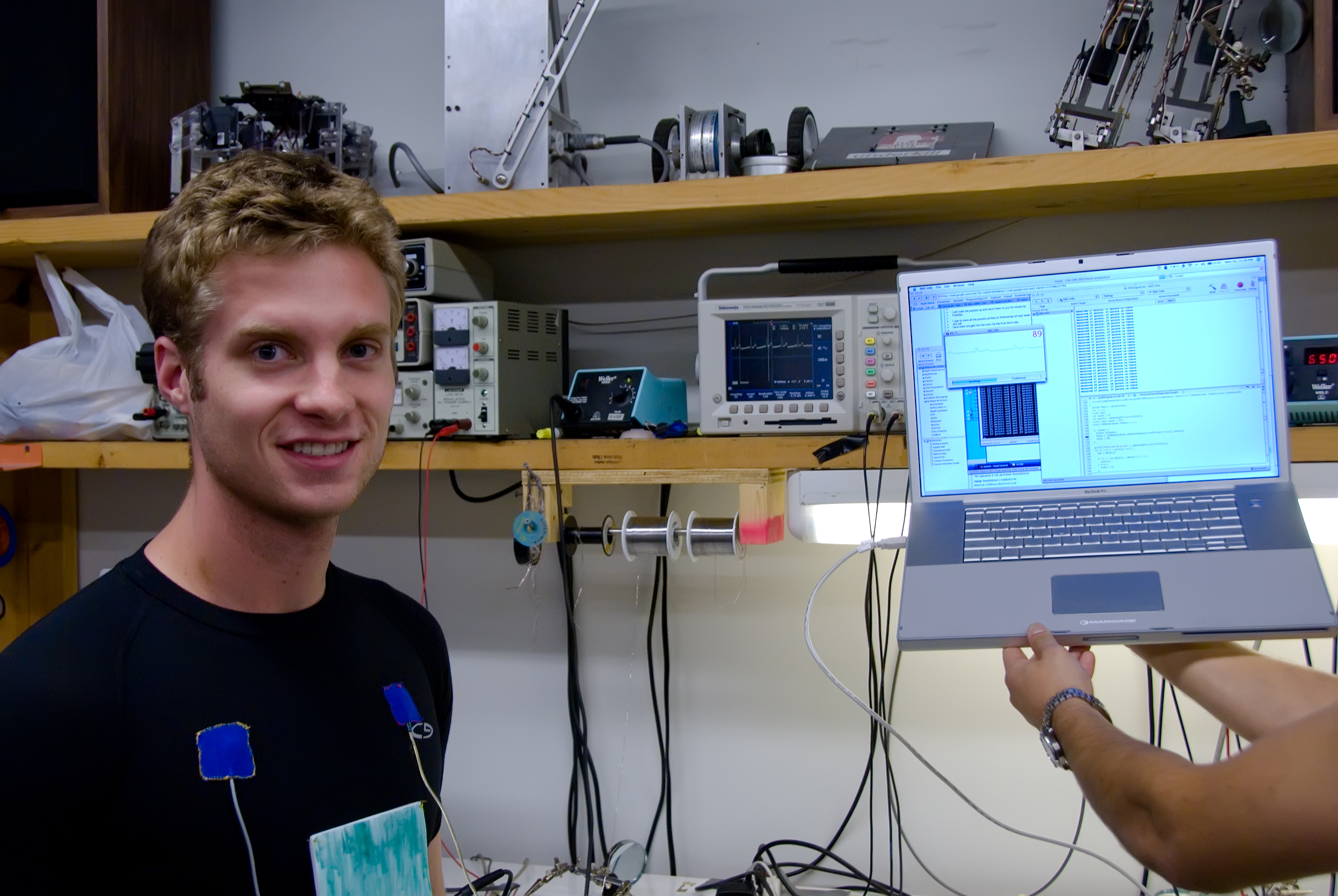 ---
Back to the top of this page
18-549 course home page